The IITA Women's Group has awarded 14 Rwandan students in its annual scholarship initiative, which reached Rwanda for the first time since its inception. The awarding ceremony was held on 21 February 2020 in Kamonyi district, southern Rwanda.
The award scheme is designed to assist IITA junior national staff in sponsoring their children for an academic session. Eligible students must not be above 21 years old. Since IITA Rwanda junior staff did not have children in that age range, the eligibility was extended to children in districts which partner with IITA and Kamonyi district was selected as it hosts many IITA activities.
26 Rwandan children competed and 14 passed the test and were awarded with prize money and certificates. Among 14 laureates from Rwanda, two students who scored 70% and above got full scholarship and other 12 students who scored over 50% but short of 70% got half scholarship.
Munyaneza Denis who scored 83% and received $50 on top of $250 scholarship award wrote a thank you note to IITA commending IITA Women's Group for motivating and financially supporting Rwandan students. He observes that the scholarship is a success enabler. "The award you gave us motivated me and I promise you to work hard and succeed," Denis says.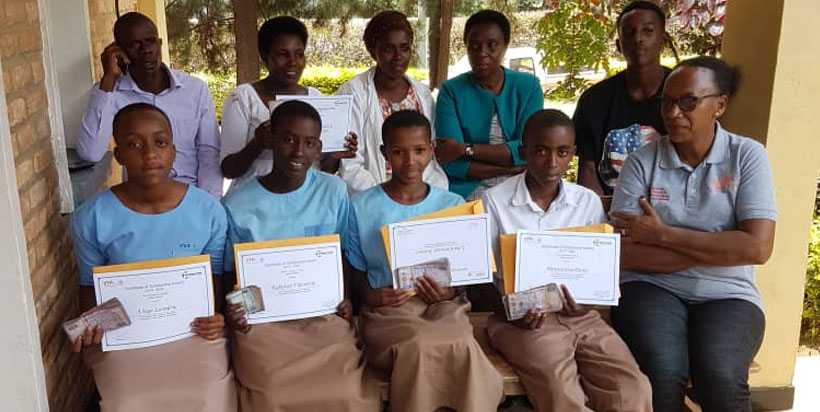 Students from Rwanda performed well in tests of mathematics, English and essay writing while general aptitude results indicated that more efforts are need to increase the performance.
Nurturing future scientists
IITA Women's Group perceives its scholarship initiative not only as a way of promoting equality and supporting junior staff, but also as an opportunity to nurture future scientists through motivation and financial support to young children.
"As a research institution, we know researchers come from children who go to school, so it is important to promote education in order to have future scientists, not only for IITA but also for the entire society," says Speciose Kantengwa, Technical and partnerships officer at IITA Rwanda.
Students qualify for the annual grant through a competitive written exam and an oral interview done throughout IITA stations. Junior-Secondary students who scores 70% win US$250, Senior-Secondary laureates win US$300 while Post-Secondary winners get US$350.