The year 2013 was another vibrant and fulfilling year for IITA. We continued to work towards meeting our objectives and commitments, overcoming many challenges along the way, and making gains in new, exciting areas. During the year, we completed efforts to reposition IITA for the many ambitious tasks ahead, and made sure that our vision of success is aligned with that of the reformed CGIAR through mapping with the CGIAR Research Programs.
We continued to strengthen our research and our R4D partnerships through the decentralization of the hubs and integration of the CGIAR Research Programs and bilateral research initiatives that address the major challenges in Africa's food and agriculture sector, fostering innovative partnerships with many new, nontraditional partners in the national programs, regional arena, and international network of agricultural research organizations. As a result, our regional hubs and stations have been transformed into strong, strategic, and independent R4D entities that are very responsive to the needs of the regions.
During the year, several new exciting efforts were started: an E-Research task force was established that is developing the backbone of IITA's research data management and knowledge delivery platform; and a monitoring and evaluation (M&E) culture has been introduced and is being embraced by staff as part of the R4D process, starting with capacity building and the development of a functional and gender-responsive M&E system.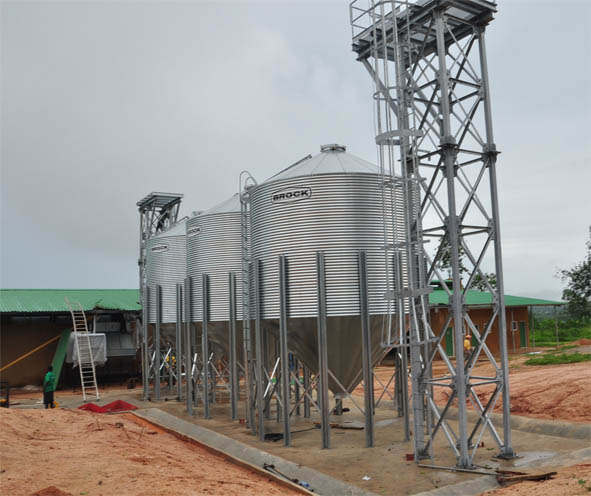 In 2013 we gave priority and are making progress on special initiatives, such as the West Africa Regional Genomics and Biotechnology Platform, the Pan African Platform for Soil Research, the Youth Agribusiness Development Initiative, a center linking climate changes to plant health, a business model for public-private partnerships, and the Business Incubation Platform (BIP). The BIP strategy is ready; aflasafe and GoSeed incubators are already operational; while Nodumax will start producing in June 2014. In support of the Agricultural Transformation Agenda (ATA) and the Youth Employment Agricultural Program (YEAP) in Nigeria, IITA has started demonstrating how to achieve the objective of increased youth employment by creating the IITA Youth Agripreneurs (IYA) and satellite organizations in the hubs.
IYA's strategy is to promote the growth of self-reliant small-scale business models on IITA's commodities, such as maize, soybean, cassava, and banana/plantain value chains, with an initial focus on seed systems and crop processing and marketing. Vegetable growing and fisheries have been added. We have established the AgriServe business that supports IITA's strategic objectives by providing advisory services and technical backstopping for planning, development, and implementation of start-up agribusiness opportunities, including those start-ups undergoing business incubation at the IITA BIP, and linking these services to innovative investment.
The good news is that Humidtropics, the CGIAR Research Program that IITA leads, received very positive feedback from the Consortium on the program of work and budget. Humidtropics serves as the focal point for integrating IITA's research-for development efforts.
On the R4D side, we continue to develop and promote improved and nutritious crop varieties of Africa's major staples and innovative practices on natural resource management for farmers and producers, innovations on integrated farming systems and sustainable intensification of agriculture, commodity value chains for regional markets in our impact zones, and cost-efficient and natural solutions to pest and disease problems in the farms.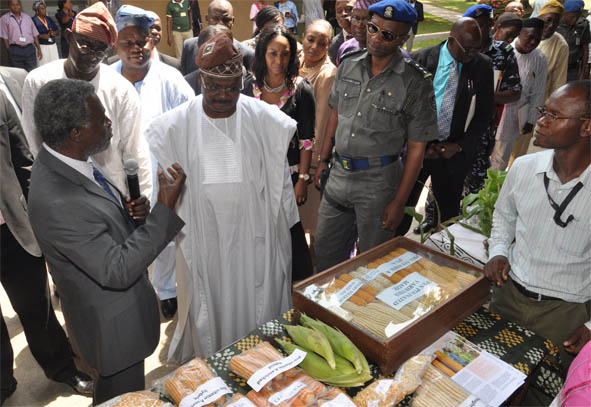 Our strong efforts at establishing new partnerships and reviving old ones have resulted in proactive and more strategic relationships and networks of partners from both the public and private sectors. The stronger organization has also resulted in more effective institutional mechanisms that ensure effectiveness and efficiency in operations.
IITA is doing the best science and using results-based management to manage agricultural research interventions and to make sure that we have measurable impact. This year, we have focused on ensuring more effective resource management in terms of people, programs, money, facilities, and partners. We have given more attention to capacity building for national partners, and as a result, IITA's track record as a training provider of choice for agricultural research in the region is being revived. We have also emphasized working with the private sector and other nontraditional partners, which has allowed us to generate greater resources for research.
Resource mobilization efforts were intensified in 2013 and resulted in many new engagements with the private sector and governments in the sub-Saharan Africa region, resulting in a 22% increase in funding from 2012 to 2013, and a rise in the number of international staff from 127 to 163.
Overall, IITA is on track with its refreshed strategy.
I thank the staff for their commitment to ensuring that IITA meets its goals. I am grateful to all our partners and our donors that have continued to support our efforts to become the leading partner in Africa that facilitates solutions to the challenges of hunger, malnutrition, poverty, and environmental degradation.