NewAfrican―Pan-Africa's best selling magazine has named John Godson, a former IITA staff member, one of the 100 most influential Africans in 2015. Godson was recognized for his laudable efforts to change Polish attitudes about Africa.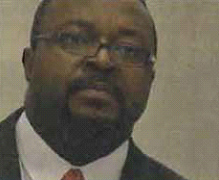 The magazine wrote:
The Nigerian has managed to accomplish one of the most interesting feats in the Diaspora. He became the first black member of the Polish Parliament as part of the Polish People's Party. He managed to accomplish this at the height of racial tensions in the country. Since he won his seat, he has devoted a large part of his time to trying to change Polish attitudes to Africa and black people.
"I've always said and still underline, that in my opinion there is no racism in Poland. There is, however, something that I call low intercultural competencies. And this can be changed by more contact between different cultures
and societal groups. No law can change the mentality of people."
Last week, IITA signed an MoU with his organization, the African Institute, Poland (AI), under which both parties agreed to establish a link to foster cooperation for the development and implementation of collaborative programs, especially in the areas of biotechnology and agribusiness.