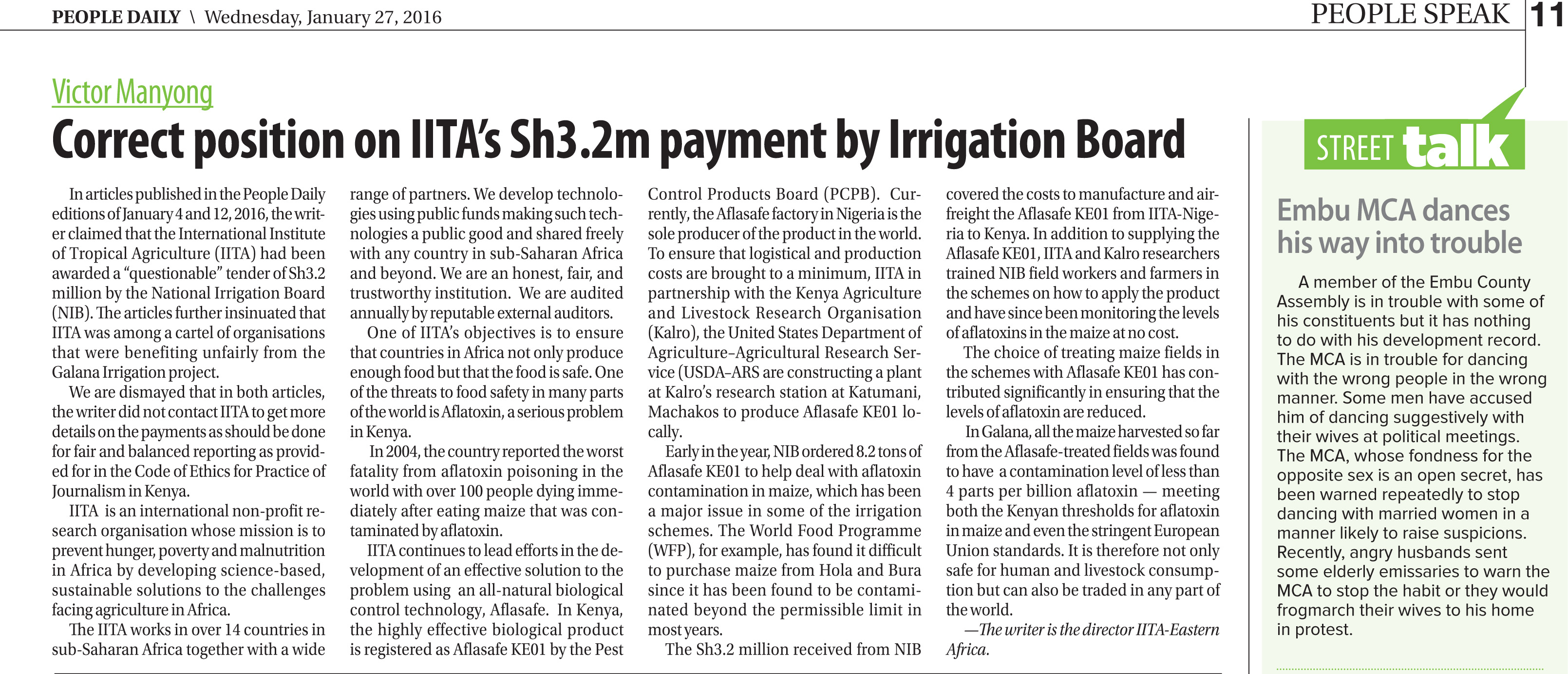 Recently a daily newspaper in Kenya wrote two articles that put IITA in a negative light in relation to monies paid to the Institute by the National Irrigation Board of Kenya. The Institute wrote a right of reply to provide more details on the payment which was published on 27 January 2016. 
Below is an excerpt from the statement from IITA.
In the articles "Anxiety as cartels eye Galana project cash" and "Anxiety grips NIB offices over looming staff audit" published by the People's Daily on 4 January 2016 and 12 January 2016, respectively, the writer, Kinyuru Munuhe, claims that the International Institute of Tropical Agriculture (IITA) had been awarded a "questionable" tender of Kshs 3.2 million by the National Irrigation Board (NIB).
The articles further insinuate that IITA was among a cartel of organizations that were benefiting unfairly from the Galana irrigation project.
IITA is dismayed that in both articles, the journalist did not contact IITA to get more details on the payments as should have been done for fair and balanced reporting as provided for in the Code of Ethics for Practice of Journalism in Kenya (Second Schedule of the Media Council Act 2013).
IITA is an international non-profit research organization whose mission is to prevent hunger, poverty, and malnutrition in Africa by developing science-based, sustainable solutions to the challenges facing agriculture in Africa. We are a member of CGIAR.
We work in over 14 countries in sub-Saharan Africa together with a wide range of partners to develop technologies using public funds for the public good and shared freely with any country in sub-Saharan Africa and beyond. We are an honest, credible, fair, and trustworthy institution with a 50-year track record of working for African farmers. We are audited annually by reputable external auditors.
One of IITA's objectives is to ensure that countries in Africa not only produce enough food but that the food is
safe. One of the threats to food
safety in many parts of the world is aflatoxin, which is a serious problem in Kenya. For instance, in 2004, the country reported the worst fatality from aflatoxin poisoning in the world with over a hundred people dying immediately after eating maize that was contaminated by aflatoxin.
IITA continues to lead efforts in developing an effective solution to the problem using  an all-natural biological control technology, Aflasafe. In Kenya, the highly effective biological product is registered as Aflasafe KE01 by the Pest Control Products Board (PCPB). Currently, the Aflasafe factory in Nigeria is the sole producer of the product in the world.
To ensure that logistical and production costs are brought to a minimum, IITA, in partnership with the Kenya Agriculture and Livestock Research Organization (KALRO) and the United States Department of Agriculture–Agricultural Research Service (USDA–ARS) are constructing a plant at KALRO's research station at Katumani, Machakos, to produce Aflasafe KE01 locally.
Early in 2015, NIB ordered 8.2 tons of Aflasafe KE01 to help deal with aflatoxin contamination in maize, which has been a major issue in some of the irrigation schemes. The World Food Program (WFP), for example, has found it difficult to purchase maize from Hola and Bura since it has been found to be contaminated with aflatoxin that is beyond the permissible limit in most years. The 3.2 million Kshs received from NIB covered the costs to manufacture and airfreight the Aflasafe KE01 from IITA-Nigeria to Kenya.
In addition to supplying the Aflasafe KE01, IITA and KALRO researchers trained NIB field workers and farmers in the schemes on how to apply the product and have since been monitoring the levels of aflatoxins in the maize
at no cost.
The choice of treating maize fields in the schemes with Aflasafe KE01 has contributed significantly in ensuring that the levels of aflatoxin are reduced. In Galana, all the maize harvested so far from the Aflasafe-treated fields was found to have a contamination level of less than 4 parts per billion aflatoxin―meeting both the Kenyan regulatory thresholds for aflatoxin in maize and even the stringent European Union standards. It is therefore not only safe for human and livestock consumption but can also be traded in any part of the world.