Since 2018, IITA has been collaborating with the Rwanda Agriculture and Animal Resources Development Board (RAB) to implement an innovative project called "Digital tool for monitoring and control of Banana Xanthomonas Wilt (BXW) disease in Rwanda" or ICT4BXW. The project is co-developing and deploying a smartphone-based digital tool (BXW App) to address the BXW threat and empower banana farmers in Rwanda.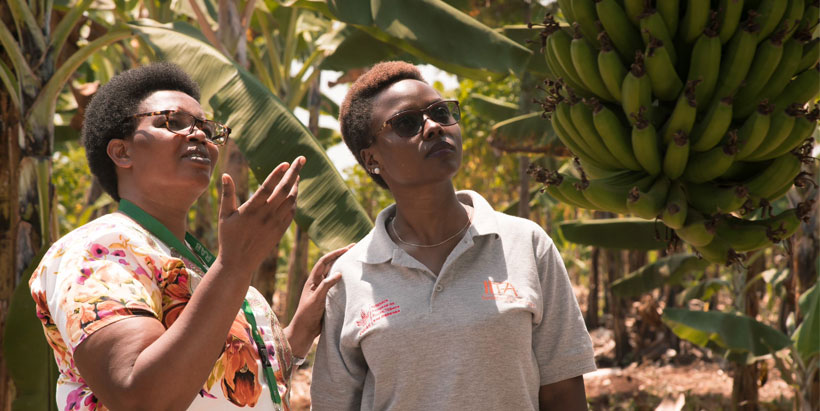 The project's goal is to use citizen science and ICT to develop efficient, (cost-) effective, and scalable tools for advancing the prevention and control of BXW in East and Central Africa.
Banana is a major food security crop in East Africa, especially in Rwanda, where it is a staple and source of livelihood for millions of households. However, banana production has been severely threatened by the continued spread of BXW disease, nationally and regionally.
The first phase of the ICT4BXW project (2018‒2020) engaged farmer promoters (local extension agents) and farmers selected from eight districts (out of the 30 districts). Through a 15-month participatory and inclusive technology design (PITD) process, the selected [next-] users contributed to the co-development of the digital solution, with a shared vision of sustaining banana production and food security in Rwanda.
Based on the successful deployment of the digital tool (BXW App) and related knowledge products, the team of researchers is disseminating technical recommendations to reduce the probability of infection and manage and control existing infections.
Before implementing the ICT4BXW Project, Complete Diseased Mat Uprooting (CDMU) was predominantly promoted as the primary method to control BXW, but this has not been fully effective because the method is costly, time-consuming, and severely affects the continuity of bunch harvests.
Thus, a novel technique to control BXW in banana, called Single Diseased Stem Removal (SDSR), has been developed and tested by the Alliance of Bioversity International and CIAT in neighboring countries over the past years. Under the auspices of the ICT4BXW Project, SDSR was field-tested in Kayonza District, Eastern Province; Rubavu District, Western Province; Rulindo District, Northern Province, and Gisagara District, Southern Province of Rwanda, with results showing 88% efficacy within 13 months.
To disseminate these findings and communicate plans for scaling the digital tool, a stakeholder meeting was convened on April 2021. The event had 145 participants, including District and Sector Agronomists, RAB Researchers and Technical Staff, and policy-makers.
Representing the Director General (DG) of RAB, Dr Charles Bucagu (Deputy DG in charge of Crop Research and Extension) attended the virtual workshop. He thanked IITA and the RAB banana program team for addressing the BXW threat, noting, "This project's objectives are aligned with Rwanda's agriculture policy and development agenda. We are implementing a 7-year program (2018‒2024), known as the agriculture transformation program to increase productivity for priority crops, including banana. But with the diseases and pests, such as BXW, it has been challenging to meet the target as planned".
Further, he reiterated, "The BXW disease appeared in Rwanda since 2003 and has spread all over the country with varying disease incidences after considerable efforts of the Ministry of Agriculture and Animal Resources (MINAGRI), RAB, and local government to control the disease by removing the affected plant. This has led to extensive removal of banana fields in the country and replacing banana plants with new ones."
Dr Bucagu acknowledged that the new tool for smartphones developed by RAB and IITA, through the ICT4BXW project, will help control and monitor BXW disease on banana more effectively.
Next steps
The digital tool supports farmers to identify BXW. However, there has been a challenge of low smartphone penetration in rural areas, where most farmers are located. The government of Rwanda is distributing smartphones to women Farmer Promotors, with the support of MTN across different districts.
Dr Bucagu said: "I would recommend including the BXW App within other existing extension programs such as Smart-Nkunganire and enable Farmer Promotors to upload it on their smartphones, so that they can adapt their use for BXW control. Smart-Nkunganire program is an agricultural input management, and we have a plan to scale it up, with the collaboration of the Bank of Kigali to make it an extension tool, not only for agricultural input, but also for other information that farmers need for evidence decision making, pest and disease threats, market prices, weather."